You are here
Content
In the freely accessible article database PubMed more than 5000 international (mainly English) biomedical journals are evaluated. The search language is English. All non-English language titles are translated.
Special features:
Keywording of most articles with Medical Subject Headings (MeSH) and, if necessary, automatic search with MeSH-terms in background, see sections "Search options" and "Thematic search with MeSH".
Please always use the above entry URL of our library for your search (also as a link or via direct search on our homepage). This will integrate the "Check full text" service (see below), display result filters in compressed form (e.g. Clinical Trial) and ensures the yellow highlighting of search terms.
Search options
Filter
Result display and export
Clinical Queries
Thematic search with MeSH
Alternative PubMed tools
On the Internet there are a number of tools based on the PubMed database which display the search results visually and/or prepare them statistically. A selection:
PubReMiner: With this tool, detailed statistical analyses can be performed, e.g. on experts in a specific field or journals in which publications are frequently made on a specific topic, or on the frequency of MeSH terms. You can search by keywords or PMIDs.
Yale MeSH Analyzer: After entering up to 20 PMIDs, the MeSH terms of the articles are displayed line by line in a table in alphabetical order. The display of the abstracts can be extended via the settings. This saves time when investigating which mesh terms may be suitable for a search or why certain articles cannot be found with a search strategy.
With a bookmarklet in the browser the analyses can be done directly, see http://mesh.med.yale.edu/help#bookmarklet

Note: PubMed IDs (PMIDs) of individual hits can be easily generated in PubMed: Tick hits > Save > Format: PMID > Create file. The numbers can be inserted into the tools mentioned above by copy and paste.
My NCBI account and email alerts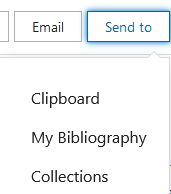 My NCBI is a free account linked to PubMed. On the PubMed start page, you can access the registration options via Log in > Sign up.
Via Send to > My Bibliography or Send to > Collections, hits can be saved there permanently, see screenshot.
You can also create e-mail alerts with an account: after saving a search query with Create alert (below the search line) you will be regularly informed about new entries in PubMed regarding your search query.
! Notes:
My-NCBI users see the "Check full text" button only when the Outside Tool is activated:
Log in > NCBI Site Preferences > PubMed Preferences > Click on Outside Tool > Select Library of the Mannheim Medical Faculty > Save
For detailed information on using the My NCBI account, see My NCBI Help.
Access instructions and "Check full text" service
Use the "Check full text" service via the button in the abstract or single hit view to retrieve full texts or order them via the document delivery service.
Full-text access from outside the faculty network is only possible for members of the faculty with a library identification, see Access options.