You are here
Content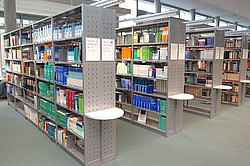 The textbook collection includes titles on preclinical and clinical medicine and peripheral areas that are thematically arranged. Each title of the textbook collection is available in multiple copies.
The textbook collection is exclusively available for loan to students of the Mannheim Medical Faculty.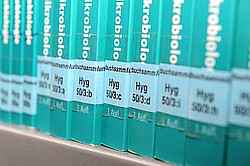 Textbooks are marked with a blue class mark label. The class mark consists of the initial letters of the subject and a combination of numbers (e.g. Chir 14/3). This allows you to find books on the shelf that you have previously researched in the online catalogue.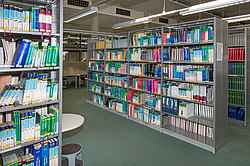 Besides the current edition, the previous edition of each title is also available. In addition, you will find a further copy on loan in the monograph collection and two copies of each textbook title in the non-lending collection. This is located in the back area of the library, left and right in front of the passage to the annex. These books cannot be borrowed.