You are here
Content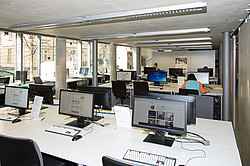 The library has numerous computer and Wi-Fi workplaces. In the front entrance area, on the right hand side, you will find computer workplaces where Microsoft Office 2019 and EndNote are installed, among others.
The computers have no connection to the hospital network.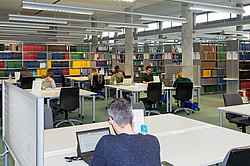 In the back area and on the ground floor of the annex there are Wi-Fi workplaces.
How to log into the available WLAN networks with your own device is described here: Computer, Software, Wi-Fi.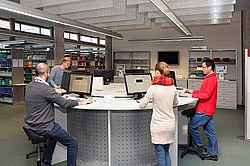 The research computers in the front area, also known as the "circular table", are intended for brief research in the online catalogue and on the Internet. A login is not necessary here.
Please note: Except for the research computers, a personal login is required on all computers and in the Wi-Fi of the library.